Firmware/Update Firmware via Web Browser
Update Firmware via LAN(Browser)
This applies to DVR, NVR and IP Cameras.
Please Note : You need to clear previous active-x installs for newly applied updates to show on Web Service in IE Web Browser. To do this, Delete webrec folders from Program files and Program Files(x86) under Windows (C:) drive. Please also reference http://dahuawiki.com/Troubleshoot/Delete_Web_Rec
Description
This enables you to update the firmware of NVR/IPC/HCVR using browser.
Prerequisites
Computer
Internet
Compatible Browser (Internet Explorer)
NVR/HCVR/IPC
Video Instructions
Step by Step Instructions
Step 1: From IE(Internet Explorer) type in the devices IP address on the IE address bar → login with credentials.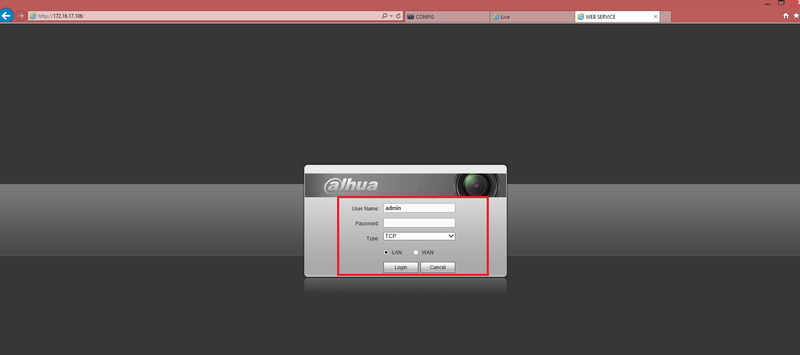 Step2: Setup → System → Upgrade

Step 3: Click on "Browse" → Select correct firmware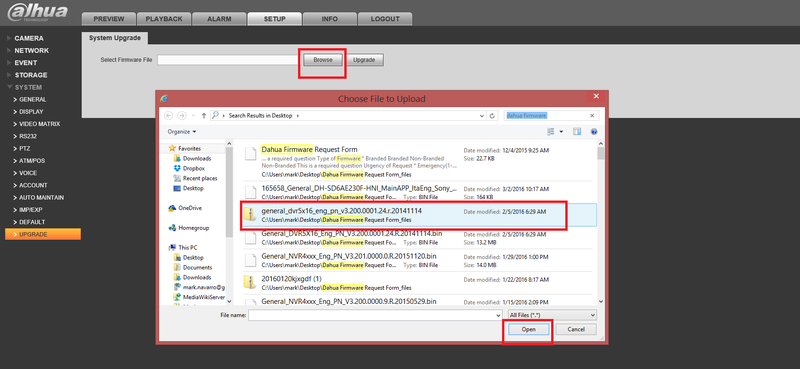 Device will reboot after upgrade is finished.


USB firmware Upgrade via web.
If firmware is on USB Device → Click on browse → Navigate to USB location → Select firmware → Open → Upgrade.