Firmware/Update Firmware via USB
How to Update Firmware via USB
Description
Follow these instructions to update the firmware on a recorder using a USB storage drive. Be sure to download the appropriate firmware for your device.
Prerequisites
USB Drive 1GB or more
The proper firmware file for the device
Physical access to the recording device
A computer to load the firmware files onto the USB
Video Instructions
Step by Step Instructions
1. Download Firmware and copy to USB such as a flash drive ➞ Insert USB into recorders USB port.

2. It will prompt for option to upgrade, Click System upgrade ➞ Click Start.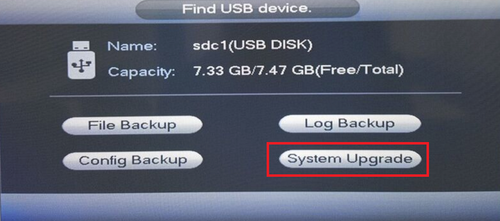 3. Browse for firmware ➞ Open firmware folder is in ➞ Select Bin File ➞ Click Start. Device will reboot once finished.